Invest and Live in France
By Kathleen Peddicord
The sweetest pleasures of life, there for the taking. Picnics in the Luxembourg Gardens, long walks along the Seine, afternoons lost among the cobblestones of the Latin Quarter…
Ah, Paris.
This city is a never-ending feast of gallery openings and special performances, museum exhibitions and seasonal celebrations, many available for little cost. You can enjoy three course meals for US$20 or less, and you can spend hours in a café , seeing and being seen, for the price of but a single café au lait. You can join conversation groups, discussion groups, book clubs, and cooking classes often for very little cost, even free.
In many ways, la vie francaise is as good as it gets… and even Paris can be far more affordable than you might ever imagine…
Of course, walks among the centuries-old rues of the Latin Quarter and gallery openings don't substitute for dinner on the table or wi-fi access.
That's OK, because, in France, even in Paris, the more practical necessities of life can also be a bargain…if you know your way around and where to go for the best deals.
When we were preparing for our move from Paris to Panama City, my husband Lief presented me with a budget showing that it would cost slightly more for our family to be in Panama City, Panama, than it had been costing us to live in Paris, France.
I suggested he double-check his math…
My husband, the accountant, assured me his figures were correct, and, indeed, Lief's projections have played out. Our day-to-day cost of living in Panama City is a little higher than it was in Paris.
How can this be?
Paris is the most beautiful, most romantic city in the world. It's also a place where your cost of living can be hugely variable and highly controllable.
That is to say, you don't necessarily need a royal's budget to be able to enjoy life in the greatest city on earth.
In Paris, you can live happily car-free, walking nearly anywhere you'd want to go. The butcher, the baker, the grocer, the wine shop, a half-dozen busy cafes, and as many lovely parks and gardens are all less than 15 minutes' walk from almost any point in central Paris. And, when you want to venture beyond your quartier, the Metro will transport you from restaurant to nightclub, from museum to café for around US$2.
France boasts perhaps the world's best infrastructure, and it's a bargain. Cable TV, Internet, and telephone, as well as the Metro, the bus, and the RER train system…all are likely less costly than comparable services where you're living now. Our phone plan living in Paris cost less than 40 euro per month and allowed unlimited free calls anytime to anywhere in the United States and anywhere throughout Europe. That's hard to beat.
My point is not that you should plan to move to Paris to reduce your cost of living. It is possible, in fact, to do just that, but that's not the typical agenda where Paris or France is concerned.
My point is that you shouldn't deny or delay your dreams of la vie française because you're worried you can't afford them. We lived in Paris for four years, with two children, and I'm here to tell you that we were able to control our costs within a very reasonable budget.
And oh what a lifestyle that budget bought us!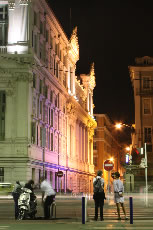 In many ways, life in Paris is as good as it gets…luxury defined…
Hands down, no contest, this is the best place in the world to seek out what qualifies no question as a rich and full life. Five-star restaurants with wine lists to match…malls and boutiques offering internationally recognized brand-name indulgences…live theater…movie cinemas showing first-run and foreign flicks (in English)… an active artist community…specialty food shops…wine stores offering top vintages from around the world…English-language bookstores… spa and salon services…
cafes full of interesting people on every corner…
All in a setting of architectural delights…historic landmarks…
manicured gardens…well-tended parks…
And running through the center of everything the romantic Seine River
with its many romantic bridges…
Everywhere you turn something new to explore and discover…somewhere lovely to wander and linger…
The Charms Of French Country Life
Are Unrivalled
(And Very Budget-Friendly)
And, of course, Paris is only the beginning of France. The charms and appeals of French Country Life are likewise unrivalled.
After spending a year on the road, trying a series of places on for size, Euro-Correspondent Lucy Culpepper and her family chose to settle in the "other" south of France. Not Provence (which, yes, is pricey), but southwest of there, in Aquitaine.
Not everyone is cut out for life in the Tropics or the developing world. If you, like Lucy, are more interested in Old World living, you, like she, could find this region of France offers just what you're looking for.
As Lucy explains, this other south of France is "colorful, eclectic, always changing, never following a formula, very open to retirees, and very affordable."
Lucy also spends a lot of time with her extended family at the other end of the Pyrenees, in the Languedoc region. This is big wine country, with a long history and a lot of heart. And, again, this part of the country is cheap. Lucy explains that a retired couple could live comfortably here on a monthly budget of US$2,000, including rent.
How You Can Retire In France on
US$1293 per Month… Or Even Less
Sometimes called the "other" south of France, there lies a charming and affordable region located between the Provence-Alpes-Cote d'Azur to the east, the Midi-Pyrenees to the west, and the Auvergne to the north, while Spain is only a few hours drive to the south.
Very Mediterranean and influenced by its proximity to Spain, it's hot and dry in the summer, wet in the winter, and cool and clear in the spring and fall and enjoys many days of sunshine each year.
This is a region of warm colors, sleepy villages, mountains, gorges with cascading rivers, endless vineyards, olive trees, colorful markets, the Canal du Midi, and the gentle waters of the Mediterranean coastline. It is also the land of the Cathars and boasts incredible historic sites, including Carcassonne.
It may not be the cheapest place to retire to in the world, but it is colorful, eclectic, always changing, never following a formula, and very open to retirees.
Yet, here, you can live on a very affordable budget. Rent for a basic two bedroom home starts out at under US$700 a month (based on euro exchange rate as of April 2014) . Or, purchase a home…charming fixer-uppers start at about the US$50,000 range, while modern stone villas will set you back around US$350,000.
Assuming you'll own your own apartment or home and won't have a monthly rent payment, US$1300 should cover your everyday expenses over the course of a month (March 2012). Here's how much you and a significant other could expect to spend, owning a comfortable two bedroom house: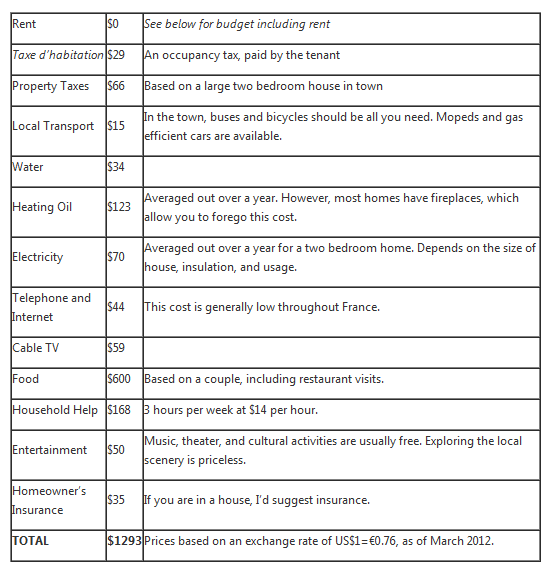 Prices based on an exchange rate of US$1 = €0.73, as of April 2014
What if you'd rent? US$665 a month can get you a 70 square-meter two bedroom villa in town. Long term renters will likely need to pay the taxe d'habitation, but you'd be off the hook for property taxes and homeowner's insurance. You could therefore expect to budget a little over US$2000 for your monthly expenses.
What about health care? I haven't included the cost of health care here, as it can vary wildly from one person to the next. The health care system in France is the best in the world, and if you become a legal resident, the cost for care can be nearly negligible compared to what you'd pay Stateside. Otherwise, we recommend Bupa International for your global health care coverage.
The World's Best Health Care—
Affordable… Even Free
France is a country of superlatives.
Its health care, for example, is the best in the world. For years, the World Health Organization (WHO) published an index rating and ranking the quality of the health care in all the countries of the world, and, year after year, France came out the winner.
If you're a legal resident, health care in this country is also highly subsidized by the government, sometimes even free.
Which raises a critical question: Should you become a full-time legal resident of France?
It can be easier to do than you might imagine. The truth is, becoming a resident of this country isn't necessarily the challenge. The challenge is facing the tax liabilities that can ensue. However, you can plan for and mitigate your tax burden as a full-time foreign resident in France, if you get the right help from the start.
To continue reading, you can get the full report here.
For more information on France, check out these resources from Live and Invest Overseas:
France Starter Kit – The ever-expanding and comprehensive France publication package. This full report is everything you need to get started in your consideration of France.
Overseas Retirement Letter — The world's best resource on the cheapest, safest, friendliest destinations…best weather, best infrastructure, best health care…most tax-advantaged and most foreign resident-friendly havens…from Argentina to France to Vietnam. Every month the subscribers of the Overseas Retirement Letter receive a complete and in-depth report on one of the world's top retirement havens, including full details on residency, health care, taxes, and itemized monthly budgets.
Country Retirement Reports – Complete and in-depth reports on dozens of the world's top retirement havens, including full details on residency, health care, taxes, expat interviews, and itemized monthly budgets. And at under US$10 for each, these reports are some of the most affordable publications you can purchase. Note that members of the Overseas Retirement Circle have free instant access to all of these reports.
Live and Invest Overseas Conferences — The best way to truly consider your new life overseas. These events introduce you to not only our general overseas experts, but also local attorneys, insurance providers, bankers, real estate professionals, and established expats.
VIP Services — Our premier hand-holding VIP services includes real estate discounts, free conference attendance, personal assistants, access to all of our relevant publications, and much, much more.
Country Budgets – Monthly cost-of-living budgets for over two dozen overseas retirement havens.
Country Information Pages – Maps and photos, plus general demographic, tax, and government information for over two dozen overseas destinations.
For a complete list of publications and services, visit our Live and Invest Overseas Online Store.