Live and Invest in Ecuador
By Kathleen Peddicord
Ecuador is one of the most affordable places in the world to retire. Also to buy or rent a home. It's very accessible from the U.S.—you can fly direct from both Quito and Guayaquil to Miami, Atlanta, Houston, New York, and Atlanta.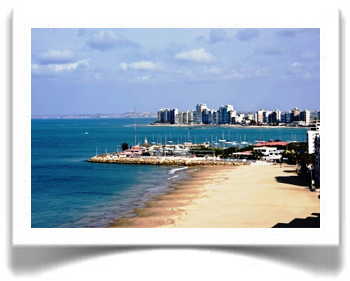 Temperatures are constant year-round, as is the length of each day. In Ecuador you can count on 12 hours of daylight 365 days a year. In the mountains, temperatures are cool and comfortable, spring-like, 12 months a year, in the range of 50 degrees Fahrenheit in the evenings, to 70 degrees in the daytime.
Health care is excellent in the cities, particularly in Quito and Cuenca, which boast hospitals with state-of-the-art equipment and specialists in all fields. A visit to the doctor can cost just US$20; a specialist charges US$25. An added bonus: Ecuadorian doctors spend 30 to 45 minutes with each patient. As a general rule, health care costs are 10% to 25% of those in the U.S., and local in-country health insurance is available for a fraction the cost in the States.
Infrastructure is this country's downside. It's undeveloped and lacking, more truly Third World than that in probably any other place in this report. The country's most developed infrastructure is in and around Cuenca, which is the reason this city is my top pick for this country.
Ecuador has two main international airports, in Guayaquil and Quito, both situated around 15 minutes from their respective city centers. For traveling within the country, buses are the far more affordable option; they cost the equivalent of about US$1 per hour of travel and run 24 hours a day. Taxis are plentiful all hours of the day and night, and the fare is about US$1.50 for most rides around town.
Quito and Cuenca have museums, concert halls, theaters, plazas, and markets in addition to bars, discos, and nightclubs. Most of Ecuador, though, is more undeveloped and rugged, and the attractions are more of the natural than the cultural variety, including hot springs, volcanoes, national parks, and waterfalls. The country's mountains are spectacular, offering endless opportunities for trekking and climbing.
Ecuador offers good options for bilingual education, including, in Quito, the American School of Quito and the British School; and, in Cuenca, the Inter-American Bilingual School of Cuenca.
Enjoy Special Benefits if You Are a Foreign Retiree
Foreign retirees in Ecuador are eligible for discounts:
50% off all public transportation
50% off national and international airfares
50% off all cultural, sports, artistic, and recreational events
50% off electricity, water, and telephone service
A special discount on property tax
As a foreign retiree you also receive relief from Ecuadorian income tax and, best of all, you never have to stand in line; seniors always go to the front.
Cuenca and Its Colonial Splendor
Cuenca's large colonial historic center lies just a short distance from the airport. I'm always impressed by its wealth of colonial homes, their interior courtyards, thick adobe walls, and iron-railed terraces looking down onto the street. Residents and visitors alike enjoy the beautiful plazas, magnificent churches, and cobblestoned streets, whose first traffic pre-dated the arrival of the Incas.
But expat retirees want more. Besides treasuring the city's rich culture and colonial charm, they want to take advantage of a cost of living that's among the lowest in Latin America…real estate prices that are unheard-of in a city with such a rich quality of life… an unbeatable retiree benefit package…and a thriving expat community surrounded by a warm and welcoming people who make you feel like you really belong.
Despite the prosperity, property is still inexpensive. A brand-new, 1,161-square-foot pre-construction condo was selling for just US$79,500… and this was right on the river, in Cuenca's best neighborhood. Or how about a two-bedroom, two-bath apartment, also on the river, for just US$44,000…or an old colonial-style home of 2,700 square feet—ready for renovation—for only US$88,000. For new construction, buyers can realize 15% to 20% savings by purchasing in the pre-construction or construction stages of the project.
If you're coming to try Cuenca on for size, you'll need a furnished rental. There's no better preview of what it's like to be a resident. You can expect a modern, luxury furnished rental to cost between US$625 and US$850 per month, varying with the size, location, and length of stay.
The Spanish spoken in Cuenca is crisp, clear, and relatively formal, making it a great place to learn the language. In fact, language- learning is a thriving business in Cuenca, with international students in residence all year. If you're not already a fluent Spanish-speaker, I'd strongly recommend attending one of the excellent language schools in town, such as the renowned CEDEI or Abraham Lincoln cultural centers. If you don't learn Spanish, you'll be able to get by. But you'll be confined to (and dependent on) a small circle of English-speakers and miss much of the rich, cultural experience that the Spanish-speaking expats enjoy every day.
When you consider all that Cuenca has to offer the overseas retiree—and what it costs to live here—you'll agree that there's no better deal out there. Plan a trip, have a look, and get ready for an exciting life in the Andes.
Further Live Overseas Resources:
Overseas Retirement Letter — The world's best resource on the cheapest, safest, friendliest destinations…best weather, best infrastructure, best health care…most tax-advantaged and most foreign resident-friendly havens…from Argentina to France to Vietnam. Every month the subscribers of the Overseas Retirement Letter receive a complete and in-depth report on one of the world's top retirement havens, including full details on residency, health care, taxes, and itemized monthly budgets.
Overseas Retirement Circle –Members of our Overseas Retirement Circle are part of an inner circle working together, with full support from us and complete access to our extensive Live and Invest Overseas resources. They have our full attention and are treated like VIPs, enjoying special discounts, savings, perks, and privileges…including eligibility for our discounted Bupa International Group Health Insurance Policy.
Country Retirement Reports – Complete and in-depth reports on dozens of the world's top retirement havens, including full details on residency, health care, taxes, expat interviews, and itemized monthly budgets. And at under US$10 for each, these reports are some of the most affordable publications you can purchase. Note that members of the Overseas Retirement Circle have free instant access to all of these reports.
Live and Invest Overseas Conferences — The best way to truly consider your new life overseas. These events introduce you to not only our general overseas experts, but also local attorneys, insurance providers, bankers, real estate professionals, and established expats.
VIP Services — Our premier hand-holding VIP services includes real estate discounts, free conference attendance, personal assistants, access to all of our relevant publications, and much, much more.
Country Budgets – Monthly cost-of-living budgets for over two dozen overseas retirement havens.
Country Information Pages – Maps and photos, plus general demographic, tax, and government information for over two dozen overseas destinations.
For a complete list of publications and services, visit our Live and Invest Overseas Online Store.